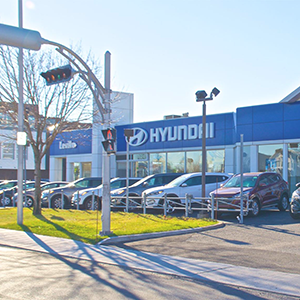 Here at our Hyundai dealership in Lévis, we are proud a proud partner of Groupe Couture, and we are the perfect place in the Québec area to buy a new or used car. In fact, we have the complete line of 2016-2017 Hyundai vehicles, such as the dynamic Santa Fe Sport and the all-new Elantra. For questions or comments, contact us by telephone or come and see us in person at 144, Route de Président Kennedy; we will be happy to meet you.
A team of passionate and enthusiastic professionals
Without a doubt, the reason that our Hyundai dealership has such an excellent reputation is thanks to our devoted sales staff as well as our expert mechanics. They are qualified to serve you, and each of them wants to make sure that your buying experience is not only pleasant but also easy and financially advantageous. We have your best interest at heart, and our network of professionals does everything they can to put you quickly behind the wheel of your new vehicle.
Our mission: your satisfaction
Our mission at Léviko Hyundai is simple: we want to ensure that all our clients leave our dealership entirely satisfied with their experience! In order to do this, we offer excellent quality used Hyundai vehicles, and we offer many advantageous Hyundai promotions. At our parts department, you will find an extensive inventory of original parts, and you will meet our exceptional technicians at our Hyundai service department.
Financial services that are accessible to everyone
When you come to our financial department, you will be able to meet with the best credit advisors in Quebec. Whether you need a second or third chance at credit, they will make sure you get the best interest rates possible, no matter what your situation is! To get pre-approval for our Hyundai financing, use our online credit request form today!
Whether you want to buy a new vehicle, or you want to take advantage of our maintenance services, you can be sure that you will have the best experience of your life. After all, at Léviko Hyundai, your satisfaction comes first.